Southwest Airlines- Enhanced Cleanliness, Social Distancing Measures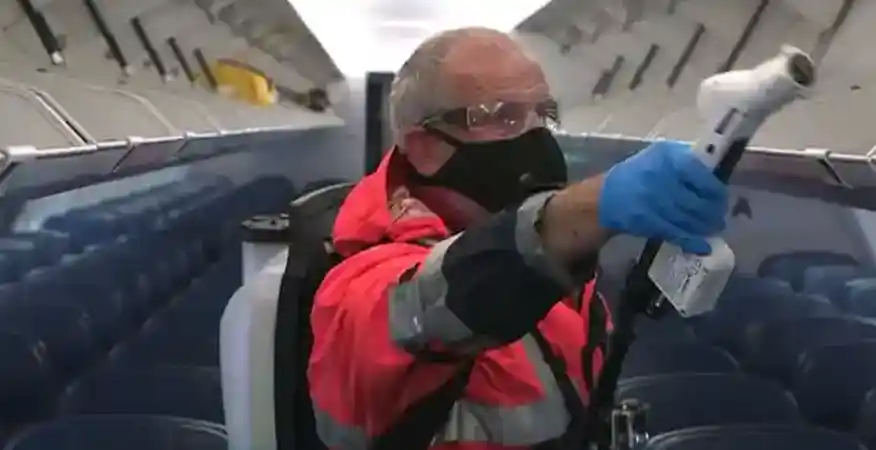 Everybody's Safety From Check-in to Deplaning
In response to COVID-19 pandemic, Southwest Airlines has made many changes to its operations and procedures for employee and customer's safety and health.
Southwest Airlines have employed stringent cleaning and physical distancing practises such as using electrostatic and anti-microbial spray treatments in the cabin.
Cleaning Round the Clock
Both electrostatic disinfectant and anti-microbial spray are applied on every surface of the aircraft.
A disinfectant is used to clean onboard lavatories and tray tables before every flight.
Each aircraft is equipped with a sophisticated air recirculation system that introduces fresh air into the cabin every second while in flight.
Southwest Airlines uses HEPA filters onboard which removes 99.97% of airborne particles.
Hand sanitizers are available at the check-in kiosk, ticket counters and every gate
Ticket counters, gates, baggage claim areas are cleaned and sanitized multiple times in a day.
Social Distancing
Southwest Airlines have placed floor markers to encourage physical-distancing in the gate areas.
Boarding in groups of 10 is done to allow physical-distancing on only one side of the boarding poles.
Middle seats are open through at least 31 October to provide passengers more space onboard.
Equipping Employees
Every employee of Southwest Airlines is required to wear proper face coverings or face mask that covers the nose, mouth and secure under the chin.
All the cabin crew members are also required to wear face coverings and gloves throughout the whole flight journey.
Before Travelling
Before travelling with Southwest Airlines, it is recommended to check your temperature and confirm that you do not have a fever. Do not travel if you have a fever.
Download your mobile boarding pass before the arrival limit. Customers must download and use Southwest Airlines Official Site for easy reservations.
Arrive at the airport earlier for smooth and hassle-free travelling.
Maintaining physical spacing at the airport and onboard.
Onboard With Experts
Southwest Airline is in contact with several authorities and experts to align their policies and safety measures with their guidance:
Centres of Disease Control and Prevention
Government Officials
World Health Organization