Southwest Airlines Baggage Policy
The Southwest Airlines baggage policy for regular basic fares include the following:
Carry-on baggage: one personal item and one carry-on item for free
Checked/ hold luggage
Overweight and oversize baggage
Sports equipment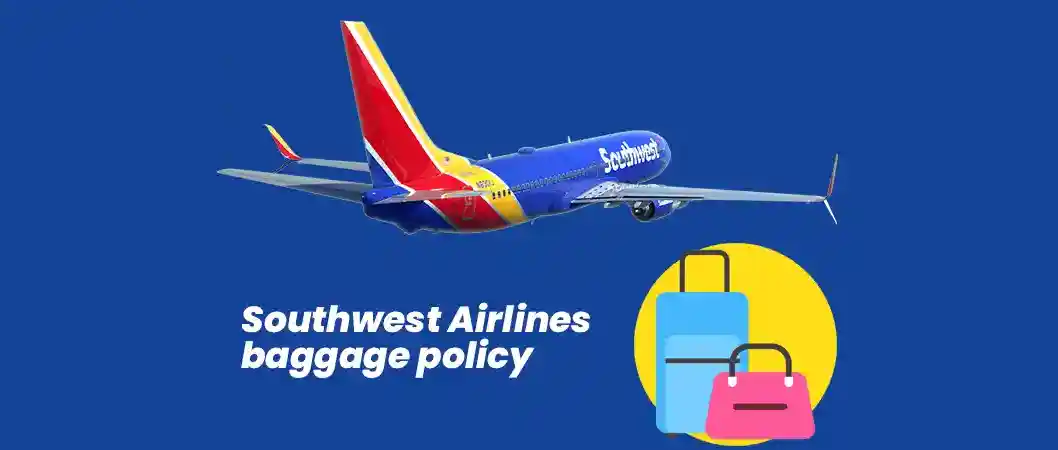 Southwest Airlines Carry-on Baggage Policy
Passengers travelling in Southwest Airlines have an authority to carry one personal item and one carry-on bag for free.
A personal item can be a briefcase, backpack, purse, laptop bag, etc.
The maximum dimensions of a personal item should be 18.5*13.5*8.5 inches or 47*34.3*22 cm and must fit under the set in front of you.
The maximum dimension of the carry-on bag should be 50 linear inches (24*16*10) or 127 centimetres (61*41*28) including handles and wheels.
Carry-on baggage should fit in the overhead bin or under the seat in front of you.
Following doesn't count as personal item:
Food for consumption in disposable packaging carried during the flight journey.
Assistive/ mobility devices for individuals with a disability.
A child restraint device for a ticketed child with a reserved seat.
Outer garments or other wearable clothing.
Umbrellas or walking canes.
Southwest Airlines Checked/ Hold Luggage Policy
Southwest Airlines allows its passengers to carry only 2 free checked bags for all fares.
Maximum dimension of checked/ hold luggage should be 62 linear inches or 157 centimetres (length+ width+ height).
Maximum weight of checked luggage should be 50 pounds or 23 kg.
Southwest Airlines Baggage Fees
Southwest Airlines charges an extra fee if you want to check more than two bags. The first two bags checked are fee-free.
If a passenger is an active US military personnel, then extra bags may be checked for free.
An extra fee of $75 per bag is charged for the third bag or any additional bag.
Overweight Baggage Policy of Southwest Airlines
Southwest Airlines charges an extra fee for all the bags that are more than required dimension and weight.
The standard checked baggage should not be more than 50 pounds or 23 kg. Customers have to pay an additional fee for all the bags weighing more than 50 pounds.
A fee of $75 per bag is charged for all the bags weighing between 51-100 pounds or 24-46 kg.
Bags exceeding 46 kg or 100 pounds will not be accepted as checked baggage or hold luggage.
Oversize Baggage Policy of Southwest Airlines
Passengers need to pay an extra fee for the bags greater than 62 linear inches or 157 centimetres.
A fee of $75 per bag is charged for the bags that are from 63 to 115 linear inches or from 158 to 292 centimetres.
Bags greater than 115 linear inches or 292 centimetres will not be accepted as checked baggage or hold luggage.
What Am I Allowed to Bring on Southwest Airlines Flights?
Southwest allows you to bring along a variety of items in your carry-on luggage. According to TSA regulations, you can pack one quart-sized clear, sealable plastic bag of liquid containers as long as each container does not weigh more than 3.4 ounces of liquid (100 milliliters). TSA liquid restrictions apply to shampoos, conditioners, toothpaste, gels, and aerosols.
Medical Assisted Devices
Needles and medical syringes are allowed under the Southwest carry-on policy as long as they are properly secured to prevent injury to yourself or Southwest employees. Walkers, canes, crutches, and CPAP machines can all be transported in the cabin and do not count as a carry-on or personal item for the passenger.
Pets
Pets in carriers are allowed on Southwest flights but will be counted as either a carry-on or personal item, depending on the size of the carrier. Southwest requires all pet carriers to be checked at the airport ticket counter in addition to conforming to carry-on luggage size. Pets are accepted on a first-come, first-served basis, with a maximum of six allowed on each flight. Each paying customer is only allowed one pet carrier. Each way, an additional 95.00 pet fee is charged.
Note:- Pets are not permitted in-cabin on international flights or on itineraries that include international travel.
Human Remains
Human remains are not permitted to be transported in checked luggage by Southwest. Under certain conditions, cremated remains may be transported on domestic or international flights within the United States (contact the airline in advance to see if you meet their requirements). If you are travelling with cremated remains, it is recommended that you place them in a temporary plastic or cardboard container and allow extra time to pass through security.
Other Items
Strollers for children
Personal Items.
Skateboards, if used in place of a carry-on bag.
If stowed in accordance with FAA safety regulations, media cameras
Items that are perishable should be wrapped in heavy plastic or styrofoam cartons (as long as said items are not hazardous).
E-cigarettes or vaping devices are not permitted to be used or recharged on the plane.
Parachutes that cannot be worn while flying.
One box of safety matches or a standard lighter.
Musical instruments in cases or covers small enough to fit in overhead bins or under seat Instruments larger than the size of a Southwest carry-on bag will only be stored in overhead bins if space is available on the flight. If this is not possible, the instrument will be transported as checked luggage.
Fees for Sports Equipment on Southwest Airlines
Sports equipment such as golf bags, skis, hockey, fishing equipment, etc. will be accepted and will be considered as a checked bag or hold baggage. Applicable fees might be applied. Before making reservations with Southwest airlines visit Southwest airlines official site and read it's policies thoroughly and make your journey hassle free. For any doubt or query call southwest airlines reservations number and get the solution.
Frequently asked questions (FAQ's)
The maximum size allowed to carry a carry-on bag is 10 x 16 x 24 inches.
If your bag's dimensions are bigger than allowed, you need to check it at the ticket counter and pick up the bag at baggage claim.
Personal items to be carried must fit in the space under the seat in front of you.
Southwest Airlines does not allow passengers to pre-pay for their luggage, which means you need to pay at the ticketing counter at the airport.
You can bring one personal item and one standard piece of carry-on at the Southwest flight. The dimensions of a personal item must not exceed 13.5" x 8.5" x 18.5" and the carry-on item must be 24" x 16" x 10". The carry-on must fit into the overhead compartment unassisted.
Southwest Airlines allows a Customer to check 20 pieces of checked baggage per flight. Any excess baggage would be subject to applicable excess baggage fees or charges, and this baggage limitation includes the airplane's Free Checked Baggage Allowance.
If you have booked a Southwest flight, you need to contact an agent to check a bag less than 45 minutes before the scheduled departure time of your flight. Southwest Airlines makes every effort to get your late checked baggage on your flight. But if your late checked baggage does not arrive with you at your destination, Southwest will not be responsible for any delivery charges to get it to you.
According to Southwest Airlines' baggage policy, you cannot bring items like a child restraint device, outside food for consumption, walking canes, and umbrellas on board a Southwest Airlines flight. However, you can bring these items by paying to the airlines' authorities and with prior permission to carry these.
Southwest Airlines' baggage policy allows passengers to travel with two free checked bags not exceeding 50lb (23kg) per bag. Southwest does not have any weight restriction on carry-on items, as long as they are within the allowed size limits.