Tarom Baggage Allowance and Carry-on Policy
Tarom Airlines is a well-known air passenger carrier based in Romania. Being a member of the SkyTeam Alliance, Tarom Airlines ensures seamless and comfortable travel to its passengers. It is the major airline of Romania with its main hub at Henri Coandă International Airport in Bucharest. Currently, it has a total of 20 aircraft carriers in service and serves more than 50 destinations in 22 countries in Europe, the Middle East, and Northern Africa including 8 domestic destinations.
Tarom Airlines has a decent and easy-to-understand baggage policy. It allows its customers to carry baggage seamlessly without any hassle. Have a look at Tarom Airlines baggage policy: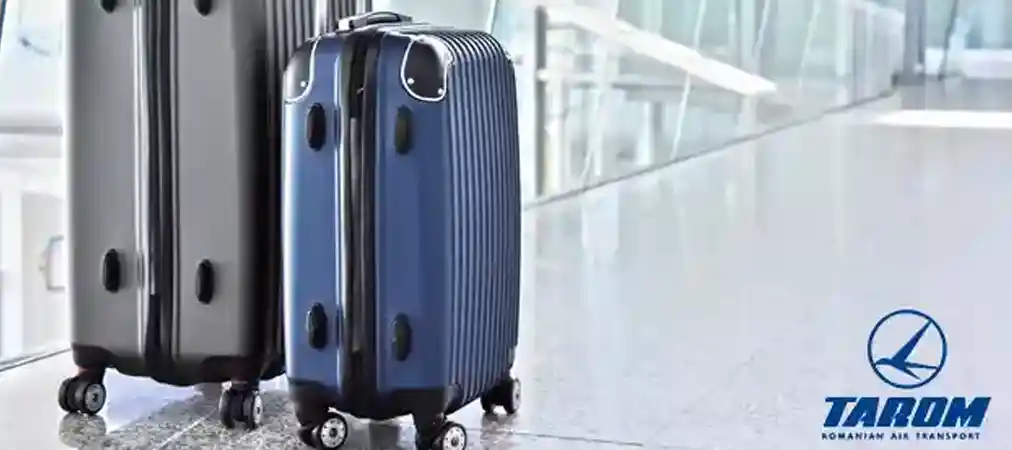 Carry-on Baggage/Hand Luggage
Passengers can carry one hand-baggage with maximum dimensions: 55cm length x 40cm width x 20cm height, if they are traveling aircraft type Boeing and Airbus.
If they are traveling with an aircraft type ATR 42/ATR 72, the luggage must not exceed 35cm length x 30cm width x 20cm height.
The total weight of the hand baggage must not exceed 10 kg and it must be a handbag/briefcase/purse or a camera/video bag or laptop or other objects with similar dimensions.
Checked Baggage
Passengers traveling in Tarom Business class cabins are allowed to carry a maximum of 3 standard pieces of max 23kg each; while for Tarom Economy class cabins, passengers can take 1 standard piece of max 23kg each.
Frequent Flyer SkyTeam members such as Elite / Elite Plus members can take 1 extra piece of baggage with a max size of 23kg.
If one piece of the checked baggage has a weight higher than the airlines' mentioned limit, the regulations related to the luggage surplus will be applied accordingly.
What is the wait then, guys? Just decide where you want to go this vacation and book affordable Tarom Airlines flight tickets hassle-free from the official website.
Hand Baggage
If you travel on a Boeing or Airbus aircraft, you are allowed to bring one handbag with you in the cabin that is no larger than 55x 40x 20cm (length x width x height).
If you travel on an ATR 42/72 aircraft, the luggage carried to the cabin should not exceed the following dimensions: 35x 30x 20cm (length x width x height).
You may also bring cabin baggage and one of the following items: a bag, briefcase, camera/video bag, laptop, or other similar-sized objects
Sports Equipments
TAROM allows passengers to bring their sports equipment on their next big adventure. Passengers are permitted to bring the following items on board- Skiing, fishing, windsurfing, kiteboarding, and bodyboarding Surfing gear, Golf equipment - properly packed in a pouch Scuba tank - scuba diving gear Equipment for windsurfing, Kayaks,, Bicycles: pedals and wheels are removed, handlebars are turned parallel, and tyres are deflated.
Musical Instrument
Musical instruments are included in the baggage allowance and can be carried instead of carry-on or hold baggage, but the carrier is not responsible for their damage in this case.
When carried in the passenger seat, the instrument's weight and size must not exceed 80 kg and 135x5030 cm, respectively.
Musical instruments weighing more than 32 kg (up to 45 kg) could previously be transported in the luggage compartment (as special baggage) with prior notification and at a reduced rate. It is now stated that such items can only be transported as cargo.
Tarom Airline Carriage of Pets:-
Pets (dogs and cats) are allowed in the Tarom aircraft cabin. The container's total size must not exceed 88 cm in three dimensions: The container must be 42x2620 cm in size and no more than 8 kg in weight (with pet/pets).
Pets (cats and dogs) are transported in the baggage compartment; the container's weight (with pet/pets) must not exceed 75 kg. The maximum container dimensions for ATR 42/72 aircraft are 71x50x51 cm and 122x82x84 cm for Boeing 737.
At check-in, the signed Conditions for transporting a dog or cat in the hold - form must be handed in.